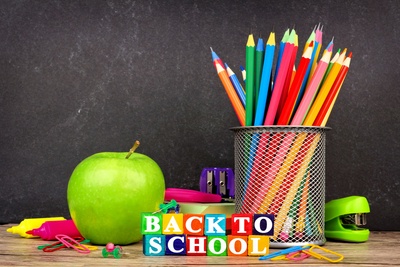 2018 Back to School C-Store Prep
While there are mixed emotions about going back to school, one thing is for sure, it means great business for you. Students are heading back to college, parents are back to school shopping, and your c-store should be preparing more than you think. This is especially true for c-stores that are in family neighborhoods and/or near a college. Ensuring parents and students get their morning coffee fix or mid day snacks means great business for c-stores. We have a few tips that will get you prepared for the back to school rush.
Get Familiar with your Neighborhood
You can get your c-store ready for the back to school season by getting to know your neighborhood. Depending on the area you're in will help dictate what items you should prioritize during for the school season. Some products that might sell well to college students, may not sell as well among working families. If you can better predict WHO you're selling to, you can learn what products and how much of it you should have.
How to prepare?
Talk to your customers! The easiest way to learn about your neighborhood is to ask your customers and find out. Not only will you find out about their buying needs, but you are building trust with them and showing them you care as well.
College Areas: College students love their energy drinks and late night snacks. If you are near a university, it would be a good idea to have a large variety of brands and flavors for energy drinks. The millennial generation is known for their choice in healthier foods. Also consider carrying healthy packaged to go foods that students can quickly grab between classes.
Family Neighborhood: For a family neighborhood you'll have two target audiences to cater to: parents and the kids. Products such as coffee, quick breakfast, and candy would do well in this neighborhood. For the parents, having a wide range of coffee choices and possibly a few tea options are a sure way to beat the competition. If there are middle schools or high schools around you, keep a good variety for your fountain station and slushies for the kids who are walking by your store on their way home.
Rush Hour Times
When parents are hurrying their kids off to school and college students are racing off to class, they are bound to forget a few things in the chaos: coffee, lunch, or a few snacks. They'll need a convenient quick stop in the morning to get what they need without breaking the bank or taking too much time. During the morning and evening commutes and for the late night college students, expect a lot of business for your convenience store.
How to prepare?
One of the most important things to customers is cleanliness. When people are in out and out of your store, it's bound to get a little messy and cluttered. Try cleaning the store right before the crowd comes in and keep an employee on the floor to make sure your store will stay organized. Stock up on the coffee cups, keeping watch on the coffee machines so you can make sure they never run out and that the area stays clean. Repeat this same routine for the drink station in the afternoon when the kids come by after school. Stock up on high selling items as well, you do not want to run out during your rush hours.
Especially for the first few weeks back to school while everyone is getting back into routine, staff more during peak times. This will help you keep your store clean and shelves stocked because you can have an employee on the floor and two other employees at the register. It will keep the lines moving and your customers happy.
Give Them More for Less
Everyone loves to get more for less especially college students who are always searching for a deal. Now would be a great time to introduce a " Happy Hour" during the mornings, mid-afternoons, and if you are in a college town, late at night. The happy hour could go on for 2 or more hours to make sure your customers are coming back as well as attracting new customers. Some ideas you could use:
Morning Happy Hour
"large coffee for $___"
"refills for $___"
Midafternoon Happy Hour
"$___ for any size Slushie"
"$___ for any size fountain drink"
Late Night Happy Hour
"2 for 1 on energy drinks/chips"
"large coffee for $___"
If you notice you have a lot of teachers coming into your store, you might consider giving teacher promotions as well.
How to Prepare?
GET THE WORD OUT! Start putting up promotion signs letting customers know that you are starting a Happy Hour and what time it will be at. They do not have to be huge promotion signs outside of the store, just printed on computer paper taped to your window or on the gas pumps. Also, tell your customers you will be starting a happy hour and tell them to spread the word. This way, you will start attracting new customers.
The summer is coming to an end and it's officially back to school season. Getting back into the routine for school can get messy for your customers, but your c-store can make it easier for them.
Let us know what tips you found most useful! Follow us and leave a review on Facebook!