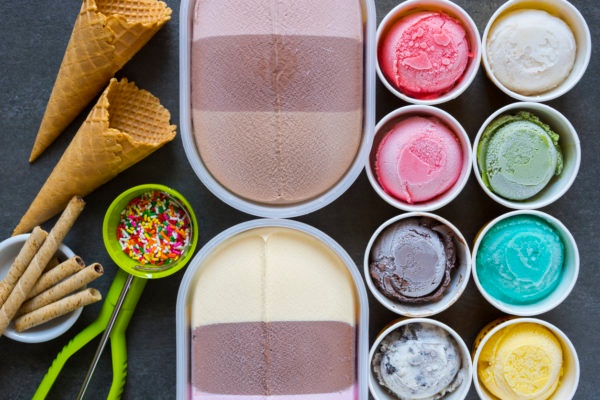 The Frozen Treats Customers Want
Now that Summer has arrived, shoppers are reaching for cold and satisfying treats to help deal with the rising temperatures. With gas prices at all-time lows, customers are able to spend more money on the food items they want inside of c-stores. When it comes to frozen treats customers are becoming more selective when deciding which items they want. Many customers are opting for premium brands or more expensive healthier options, selecting the right cold products is important to continue satisfying your shoppers.
Frozen Yogurt Facts
After surveying 350 Americans about what their favorite frozen treat was, nearly 80 percent said frozen yogurt. This is not surprising since many larger c-store chains like Racetrac have been implementing self-serving frozen yogurt services into their newest store designs. The demand for frozen yogurt is there, and single store owners can still be a part of the experience without having to reconstruct their store. By offering popular brands with new frozen yogurt flavors such as Ben and Jerry's, you can curb many of your customer's cravings. Frozen Yogurt has also been shown to be more appealing to college-aged customers than any other take-out food item. Be sure to offer a variety of brands to ensure that they will be coming into your c-store to pick up their favorite flavor.
A Growing Gelato Category
Gelato is one of the more recent trends in the frozen treat category. By late 2016, 43 percent of customers were buying gelato. Customers seem to love that gelato is softer, creamier, lighter, and contains less fat than ice-cream. As a treat with lower fat content, customers are able to better taste the flavors, "butterfat coats your palate, and if you have less of it you can taste the flavors more quickly." This will satisfy their taste buds without the guilt of ice-cream. Shoppers also want brands that are fat and gluten free, vegetarian, and even kosher. Talenti is a brand that has all of these qualities making it one of the fastest growing gelato brands. They also have flavors ranging from vanilla bean to raspberry cheesecake, making Talenti very appealing to those looking for new flavor combinations.
Customers also like that gelato works better with warmer temperatures. Due to its silky nature gelato is typically stored at a higher temperature than ice-cream. This means it will not be ruined on the car ride home, and tastes even yummier to the kids at home waiting to indulge.
Ice Cream: A Classic Treat
When it comes to ice cream customers are searching for products that have some or all of the following qualities:
Premium brands; some shoppers are willing to pay more for premium treats. 35 percent say that premium frozen treats taste better than regular frozen treats. One reason for this may be that many customers believe that higher quality equals an overall healthier option.
Portion control; now that healthy trends are consuming the c-store industry many shoppers want to still feel good about their guilty pleasure food items. Many customers are reaching for individual or pint sized ice creams instead of the traditional quart size. Many will even pay more for the option of receiving less so that they will not be tempted to binge and overeat. This is good news for owners who can make more money on ice cream products while saving room in their freezers.
Innovative flavors; although vanilla is still the number one seller across the board, combining customer favorite snacks and ice cream is just one of the newest flavor trends hitting the c-store market. Brands like Hostess and Nestle Dreyer's Ice Cream Co. are teaming up to create new ice cream flavors in varying sizes and prices that every shopper with a sweet tooth will want to purchase.
Exclusive products; in the past, brands such as Dippin' Dots were only available at independent stores or inside of theme parks. Recently they have been partnering with retailers to offer a convenient pouch for customers to buy on-the-go. Serving items like this is sure to grab customer's attention and boost your overall frozen treat sales.
As convenience stores continue to offer more cold treats, frozen yogurt, gelato, and ice cream should be a top priority when stocking your freezers. Since c-stores often offer flexible and convenient hours, many customers will be coming in for late night cravings or a mid-day snack. Make sure you have the right brands, flavors, sizes, and trends that they are looking for to ensure profits in the frozen food category.
Visit our Dippin' Dots page to start your sign up today!