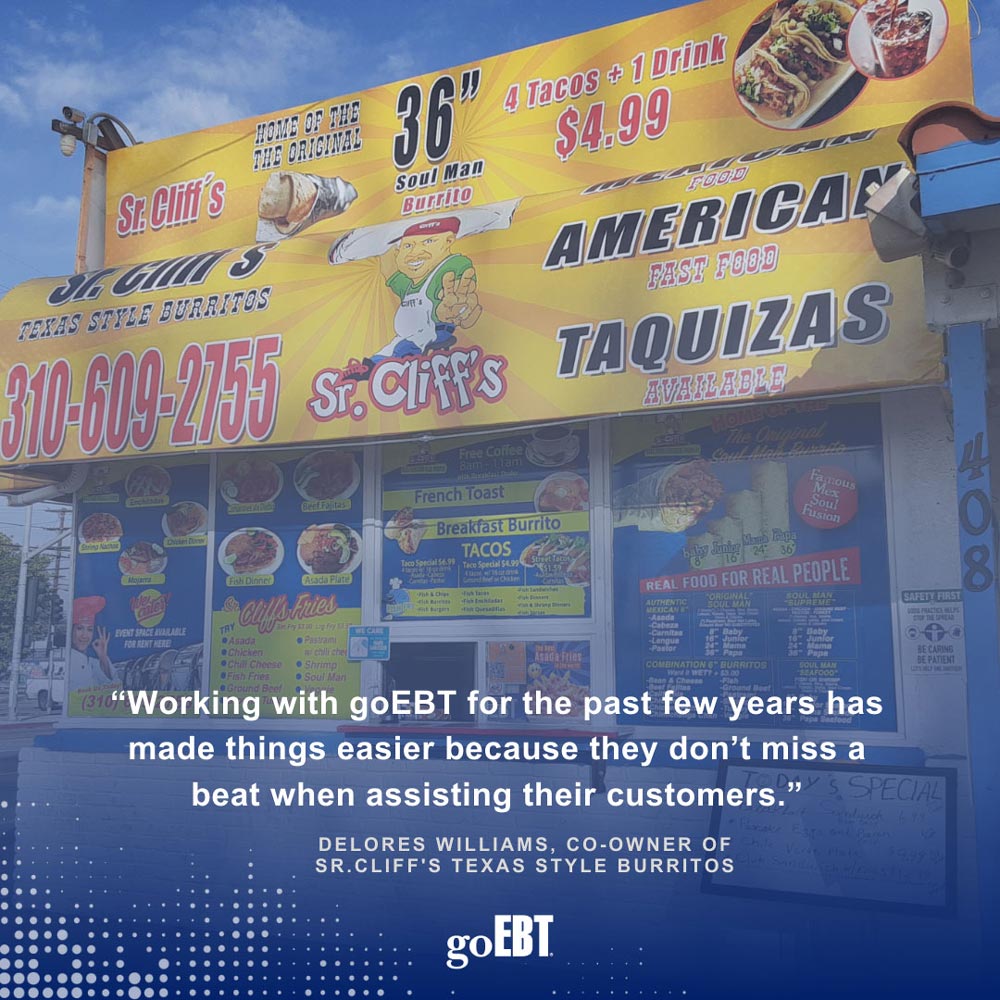 Merchant Spotlight: Sr. Cliff's Texas Style Burritos
50 Years and Counting in the Food Industry
goEBT EBT processing merchant Sr. Cliff's Texas Style Burritos, home of the original Soul Man burrito, has been providing Afro-Mexican fusion food to the Compton community since 1992. However, the story of this community staple actually began in 1969, when founder and co-owner Cliff Williams arrived in California.
Originally from Texas, Cliff started his 50-year tenure in the food industry with Weber's Bread Company and Oroweat Bread Company in Los Angeles. In 1972, Cliff decided to open a record shop in Compton called Soul 'N Deed Records.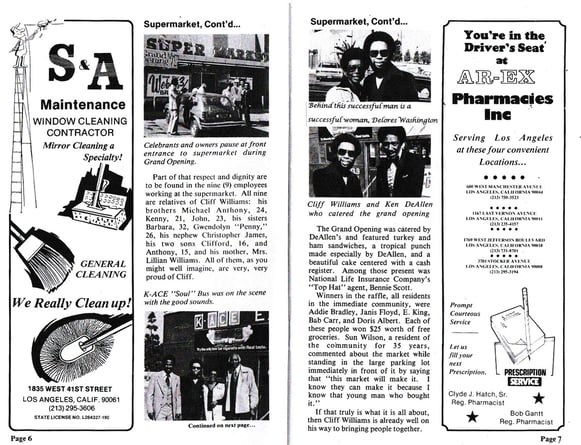 In 1975, Cliff opened The Little Store, a mom-and-pop convenience store. Cliff brought his family members from Houston to help him run the store, including his mother, "Ms. Lillian," his sisters, Barbara and Penny, and his brothers, Michael, John and Kenny. This neighborhood that had never seen a young Black man own anything now witnessed a Black family of business owners working together. It may have been called The Little Store, but it had a huge impact.
Cliff then opened a 5,500-square-foot, full-service supermarket on Wilmington Avenue in Compton in 1979. Employing young people from the neighborhood and his family, the business thrived until it was met with insurmountable refrigeration problems and closed.
Eventually, Cliff decided to buy a hot dog cart and sell $1 hot dogs. With the success of the first cart, he bought two more and then opened a brick-and-mortar location in Los Angeles near Centennial High School.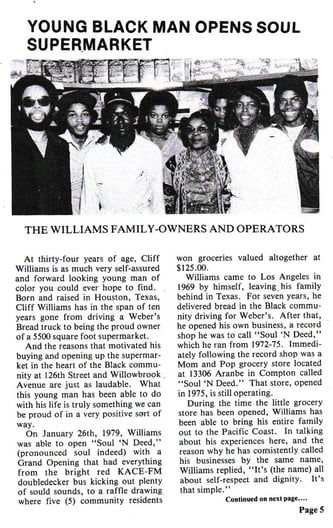 Finally, in 1992, Cliff sold his Los Angeles restaurant and opened a soul food restaurant in Compton. As the community and culture of Compton changed, Cliff wanted to connect the Black and Latino communities through fusion food. A new Afro-Mexican fusion restaurant was born: Sr. Cliff's Texas Style Burritos.
Sr. Cliff's, as it is affectionately referred to by customers, is an essential part of the Compton community because they are located in a family-oriented neighborhood within close proximity of John F. Kennedy Elementary School, Walton Middle School and Compton High School.
"It is important to us to be able to provide hot meals and great tasting food at reasonable prices to the parents, teachers and children who live and work in our service area," said co-owner Delores Williams, wife of Cliff Williams.
A Decade of Accepting SNAP Benefits
Sr. Cliff's has been accepting EBT payments since 2010 through the California Restaurant Meals Program. This program allows eligible homeless, disabled and/or elderly EBT recipients to use their CalFresh SNAP benefits to purchase hot, prepared food from participating restaurants. While not the majority of their sales, a lot of the surrounding community relies on EBT to receive nutritious food on a regular basis.

Now, customers from outside of the Compton community have started to frequent the restaurant to redeem their SNAP benefits: "As we've grown and the word has gotten out about the food and service, we've had customers from outside of our community come to taste our food. We even got the word out on the KJLH radio station in Los Angeles, which has increased our reach in attracting EBT customers," said co-owner Cliff Williams.
In 2015, the quick-serve restaurant turned to goEBT's EBT processing solutions to help grow their business further. Co-owners Cliff and Delores Williams especially enjoy goEBT's fast solutions and excellent service: "It's been a great situation for us, bringing EBT to our business. Working with goEBT for the past few years has made things easier because they don't miss a beat when assisting their customers. After I talked to customer service, goEBT sent out our payment terminal the next day!" commended Delores Williams.
Adapting to COVID-19
As an essential source of nutritious food, Sr. Cliff's has been fortunate enough to have a staff that agreed to continue serving their community during the COVID-19 pandemic. "Accepting SNAP payments has allowed us to continue to serve our local community and maintain our sales. We've made a special effort to make sure that our menu, prices and service accommodate the local community that relies on EBT," said Cliff and Delores Williams.
To adapt to the COVID-19 pandemic, Sr. Cliff's also made a special effort to make sure that the restaurant was safe for the local community: "We want to create a safe environment at our restaurant for our staff, suppliers and customers," said Cliff Williams. Customers and staff are required to social distance and wear masks, and an online ordering program was also launched so that customers could pick up their orders when ready.
Using their goEBT COUNTERTOP terminal, Sr. Cliff's also launched a curbside service program to continue serving their customers safely during the COVID-19 pandemic.
"Accepting SNAP payments has allowed us to continue to serve our local community and maintain our sales. We've made a special effort to make sure that our menu, prices and service accommodate the local community that relies on EBT."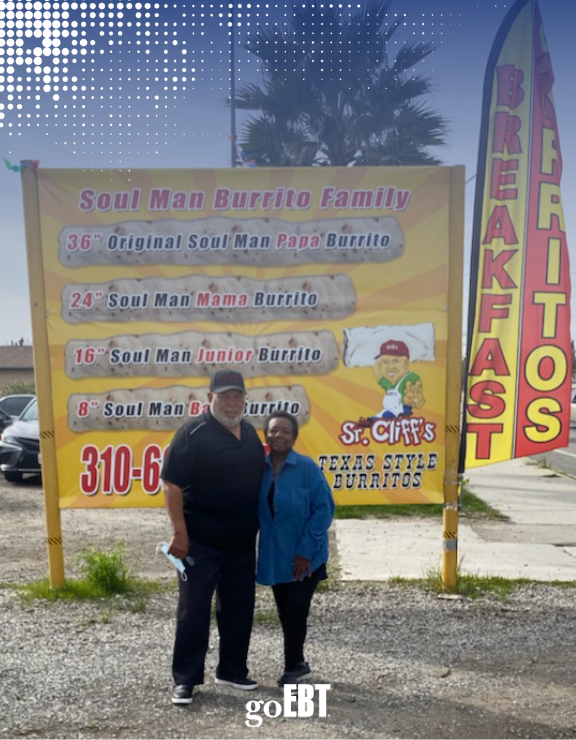 So far, curbside service has worked well for Sr. Cliff's, and they plan to continue curbside service after the pandemic is over: "If you look at major chains with drive-throughs, getting as many people in and out as safely and quickly as possible seems to be the new business model," said Delores Williams.
In response to the COVID-19 pandemic, Sr. Cliff's has also partnered with agencies such as the Latino Chamber of Commerce of Compton to give away food, clothing, safety supplies and toys to help their community during this unusual and unprecedented time. "It's tough right now for everyone. If there is any way that we can help our community, we want to help," said Cliff Williams.
When asked about the donation drives, Cliff and Delores Williams excitedly described how these drive-in events are always quite popular with the community and have started to attract high quality donations for those in need. Using the Sr. Cliff's parking lot, people line up in their cars to receive donations from their fellow neighbors.
From the beginning, Sr. Cliff's has been about uniting the Compton community with great food and a neighborly atmosphere. After 30 years, the restaurant continues to exhibit this philosophy through community service, affordable food and excellent service.
We would like to thank the Williams family for sharing their story with us, and we are excited to see how their business continues to grow in the future.
Follow Sr. Cliff's on social media or visit their website!
Have an interesting story to tell?
Sign up for the chance to be featured in an upcoming Merchant Spotlight!