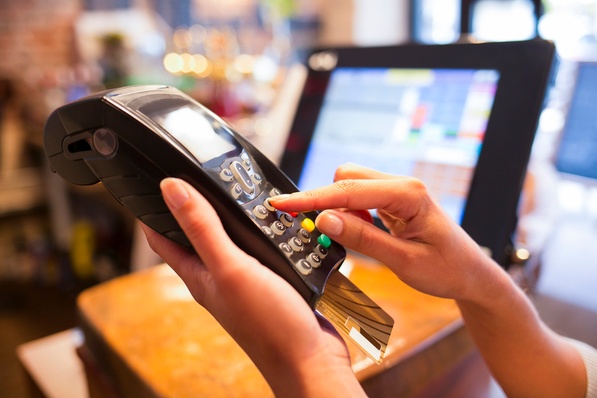 Credit Card Fraud in C-Stores
In 2014, 31.8 million US consumers had their credit cards used in fraudulent transactions – three times more than in 2013. Now more than ever convenience and small grocery store owners are at risk for fraudulent activity at their business. This makes fraud protection important for store owners to practice. Although it can seem confusing, preventing fraud is easier than you may think. Simple changes like having a card processor with up-to-date encryption, educating your employees on security, and using chip card technology will prevent fraud, helping you make more money. The right card processing providers can also save owners time and money, by helping them avoid the stress of back charges and fines allowing you to focus on growing your business.
Having a Card Processor with Up-To-Date Encryption with PCI Compliance
Using a card processing provider that utilizes updated encryption technology is extremely important when trying to protect your business against credit card fraud. This means that your processor will make the customer card data safe lowering the chance of information being stolen. Another easy step to take in fraud prevention is to ensure you're taking advantage of any additional settings that enhance security, such as requiring customers to enter their ZIP code during purchase. This will automatically check for a match with the billing address that is linked to the card preventing fraud without any additional effort from the employee. Technology like this is typically standard at the pump but can often be implemented inside at the register as well.
PCI (Payment Card Industry) security standards apply to all businesses, regardless of size or the amount of transactions. It's essential to place your trust only in credit, debit, and EBT processing providers that are completely PCI compliant to ensure your transactions are secure from start to finish. With help from a processor that values integrity, you can stay in the loop when it comes to reducing the risks of fraud in your c-store.
Fight Fraud with EMV
In a previous post, we discussed what EMV is and how it will benefit your business. Many convenience store owners are still yet to invest in this technology standard, despite the liability rules that have been put in place. Yes, EMV chip-card processing is now required to avoid being held financially responsible for any credit card fraud that happens at your store. It is also a great way to deter fraudsters in general.
The transactions completed with the use of EMV chip-card technology, or other EMV capabilities, better ensure that the actual cardholder is authorizing a purchase and their information is safe from the time it is submitted to your payment processing system. The data that is transferred at the time of a purchase made with EMV technology cannot be replicated which prevents hackers and thieves from using any stolen information. Criminals who know a business has made the upgrade to EMV technology are much less likely to target that business in their fraud attempts. In the long run, c-store owners save money in potential fees and fines and increase the trust that customers have in their business.
Educate Your Employees on Security Standards
Criminals will often take advantage of retail cashiers, especially in the c-store industry. Although quick transactions and keeping lines down is important, it's also valuable for your employees to understand the cost of credit card and EBT fraud that can easily happen at the register. Everyone working in your store should make minimizing fraud and crime a priority and do their best to prevent it. There are many ways to spot card fraud before it happens. Make sure you and your employees can spot the signs by following these tips:
Look to see if the name on the card matches the customers ID
Check the receipt of all EBT transactions to make sure there were available funds for the purchase
Make sure your employees are watching and always alert

Is the customer nervous, impatient, or trying to speed up the transaction?
Does the customer keep their card in a wallet or purse, as people normally do, or are they handling it in an unusual manner?
Is the customer asking you to not swipe the card because of a "damaged" strip?
Has the customer made numerous purchases in a small amount of time?

Be aware of the customers who have several cards that are declined
Avoid entering damaged or worn cards manually
If you are instructed or suggested to do so, call the card issuer for authorization. This is a quick and easy way to prevent a fraudulent charge right at the point of sale. If you are suspicious of a fraudulent charge after the purchase you can contact your POS provider to report the transaction. They can quickly check to see if they have any previous data on the card, telling you immediately if the transaction was fraudulent.
It's very important that every employee in your c-store knows not to confront or attempt to apprehend a customer that they suspect of credit card or EBT fraud. Any criminal has the potential to become violent and cashiers should always act in a way that maintains the safety of themselves and other customers.